Carbon Molecular Sieves (CMS) BELLFINE® MG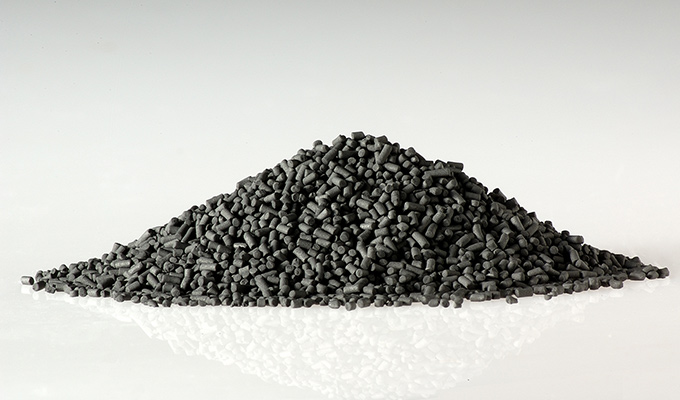 We are looking for business partners who want to use our CMS.
We will help you to develop advanced equipment. Please feel free to contact us.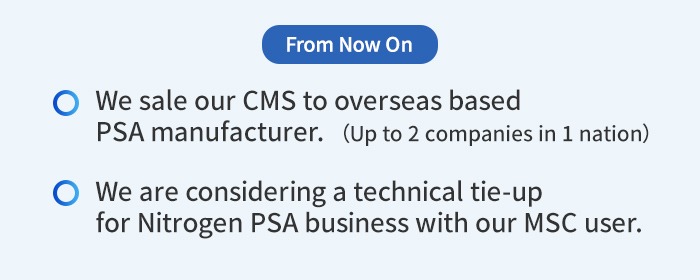 The history of developing BELLFINE®MG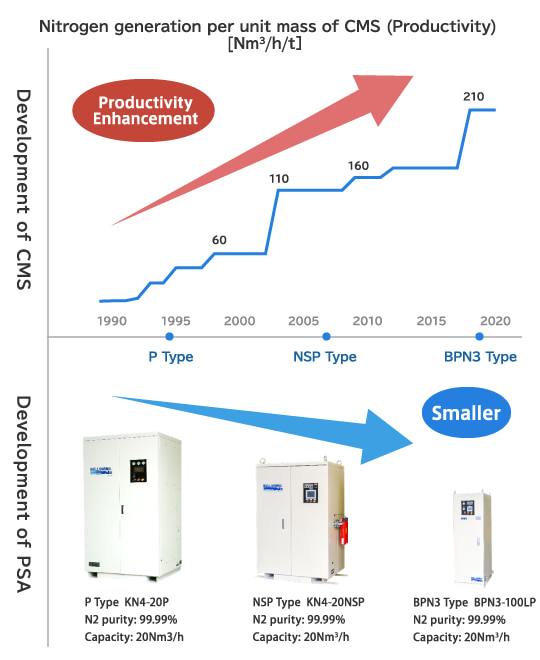 | | |
| --- | --- |
| 1985 | CMS development start |
| 1989 | CMS mass production start |
| 1992 | BELLFINE BS-23 |
| 1993 | BELLFINE BS-13 |
| 1995 | BELLFINE MG-9 |
| 1998 | BELLFINE MG-7 |
| 2003 | BELLFINE MG-7L series |
| 2006 | Massive improvement of durability |
| 2009 | BELLFINE MG-4 |
| 2012 | BELLFINE MG-407 |
| 2018 | BELLFINE MG-405L |
We began mass production of CMS in 1989 and continue to develop new CMS for 30 years. Our cutting edge CMS always realize our high performance nitrogen PSA.
In our research and developing policy, we prioritize to increase nitrogen generation per unit mass of CMS (Productivity).As a result, we succeeded to make PSA smaller by reducing amount of CMS use.
In addition to productivity, we are continuing CMS research and development to improve the nitrogen yield (Air/N2) from the air.
IN FY2019, We had realized the new nitrogen PSA which can generate 99.99% nitrogen of 20Nm3/h with the world smallest amount of CMS. ※ (BPN3-100LP)
※Our research.
"BELLFINE® MG" product introduction

In 1989, we developed the CMS "BELLFINE® MG" using the in-house developed phenolic resin "BELLPEARL®" as the raw material. Our nitrogen PSA, which introduced these CMS, has a cumulative sales record of more than 3000 units, mainly in the Japanese market.
From material (CMS) to machinery (PSA).
The strong product development based on consistent design and manufacturing is our feature.
Our PSA lineup has perfected through the history of over 30 years business record. In response to many customer needs, our nitrogen PSA has the No.1 market share in Japan in 2019.
We propose the best CMS suitable for each performance demand and application of nitrogen PSA.
Strong points of BELLFINE® MG
① Productivity
Reducing the amount of CMS used to fill nitrogen PSA is the strongest point . In addition, the nitrogen yield is high and energy saving design is possible.
Suitable for med-size (100Nm3/h or less) nitrogen PSA. The equipment can be made more compact and can be differentiated by using BELLFINE® MG.
Our latest model has achieved 40% reduction in CMS use compared with the old one.
② Durability
Japan made CMS with excellent strength and durability.
We continue to improve quality with know-how cultivated over many years, such as the method of filling into PSA and durability.
ISO9001, 14001 certification acquired (Our Hofu factory).
BELLFINE® MG is durable against performance degradation due to long-term use of PSA. Our PSA has a lot of track records of over 10-year operation under proper maintenance.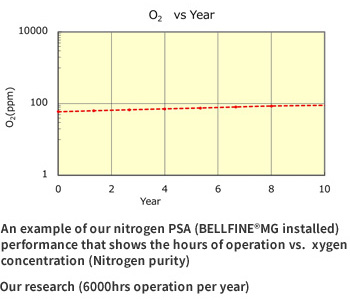 Make it Smaller and More Energy Saving!
Our development theme is "Designed energy saving PSA machines with the world's smallest CMS amount". As a result, downsizing by saving space and energy saving of the PSA machines are realized. In addition, by improving Nitrogen generation capacity and miniaturizing machine, overall cost saving can be achieved.
Cultivate new PSA users who could not installing a PSA device until now.
[ Example of install considerations ]

① The installation location is too small.
② The installation location is too low ceiling.
③ The passage is too narrow.
④ Equipment initial cost is too high.
*The picture on the right is comparison of our old and new product.
(Applicable for 11kW class compressor,
Nitrogen purity:99.99%,Capacity:OldModel 20Nm3/h NewModel 22Nm3/h)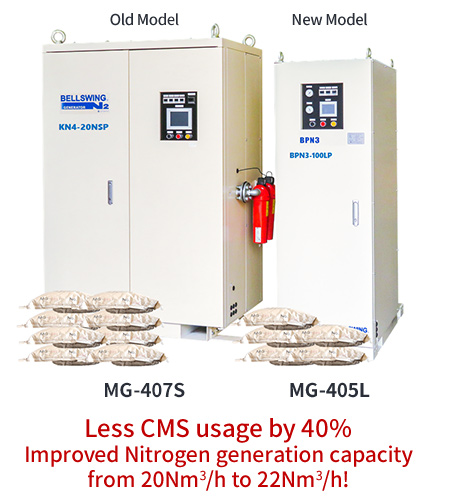 1. What is CMS (Carbon Molecular Sieves)?
CMS is a special adsorbent used for separating oxygen and nitrogen in the air or for separating components from mixed gas.
By precisely controlling the pores formed in carbon body, it is possible to separate gases with slightly different molecular diameters.
AIR WATER BELLPEARL manufactures and sells CMS for nitrogen PSA that separates nitrogen from air.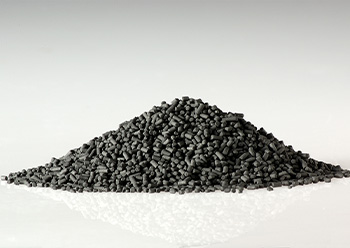 2. Principle of CMS for air separation (nitrogen PSA)
The adsorbent has numerous pores. When the ambient air is pressurized, oxygen molecules with a relatively small molecular size are quickly adsorbed in the pores, and the remaining nitrogen molecular can be separated.
Even if the pores are filled with oxygen molecules, the oxygen molecules can be desorbed simply by returning the ambient pressure to atmospheric pressure.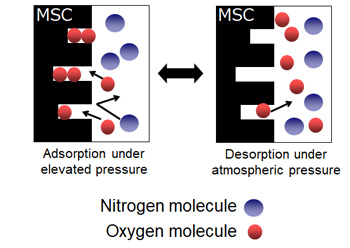 3. Adsorption characteristics of CMS
CMS is characterized by a very large difference in adsorption rate between oxygen and nitrogen. Nitrogen PSA separates nitogen from air due to this difference of adsorption rate.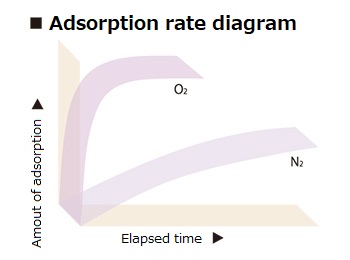 Frequently Asked Questions
How much is the cost of CMS.

It depends on CMS type or amount of order. Please contact us for price information.

Do the CMS adsorb any gases other than oxygen?

CMS adsorb carbon dioxide and vaper in the atmosphere.

How much amount of CMS is needed for PSA?

It depends on several conditions. (e.g. Generated nitrogen amount, Purity, Feedair amount or Compressor performance etc.) Please contact us for details.
You can find the amount of required CMS by using the index value which shows how much 99.99% nitrogen gas can be generated by unit mass of CMS.
For example, In case of the index value of 100(Nm3/h/t), 1ton of CMS is needed to generate 100Nm3/h of 99.99% nitrogen gas.?

What size of compressor is needed for PSA?

It depends on product nitrogen amount, purity and the amount of CMS use.
You can calculate the feedair requirement by performance index value so called "Nitrogen yield" which shows ratio between feedair and product nitrogen. (Air/N2 or N2/Air)
For example, In case of the index value of "Air/N2(99.99%)" of 4.0, the amount of feedair for 30Nm3/h nitrogen is calculated as follows. 30*4.0=120 Nm3/h
In practical design, you have to consider other conditions like temperature etc. Please contact us for details.

Can CMS be used for oxygen PSA?

No, it can't. CMS is the absorbent which preferentially adsorb oxygen and be used for nitrogen PSA.

Can CMS be used methane purification?

Yes, it can. CMS can be used in PSA process which remove carbon dioxide gas from carbon dioxide and methane gas mixture.

What temperature is acceptable for CMS use?

5℃~35℃ is recommended. Please contact us for further information.

Is there an expiration date for long-term storage?

We recommend filling it into nitrogen PSA as soon as possible after delivery. When storing, avoid high temperature and humidity and store in a sealed container.

Are there any conditions of use?

Each of CMS owns each recommended condition. If you show your spec (e.g. nitrogen purity, nitrogen amount, ambient temperature, feedair pressure) to us, we are going to propose our recommendation.

How much is the BELLFINE MG's strength?

The average hardness of BELLFINE MG is 95% and more in the measure method in JIS K 1474 standard. It depends on product type. Please contact us for further information.

May the PSA which installed BELLFINE MG be exported ?

Yes. Our PSA can be exported to overseas customers. We have exported our nitrogen PSA (BELLFINE MG installed) to China, Vietnam, Thailand, Philippines, Indonesia etc. from Japan.

What is the HS code of BELLFINE MG?

The HS code is [3802.10] (Activated carbon) .

Can you issue the "Preferential country of origin" (i.e. form AJ, form JTEPA, form VJ and form JIEPA etc.)?

Yes, We can. Please ask us every order.